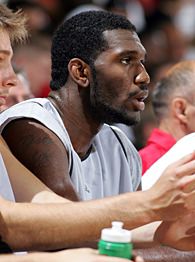 I am a transplant to Oregon, therefore I have not fully bought into the Oregon mindset. Conversely, Oregonians don't necessarily appreciate me because I am from California. Little does anyone know I was actually born in Oregon but spent a brief amount of time here. My formative years were spent elsewhere, which explains why I can't figure out how Oregonians think sometimes.
Yesterday terrible news broke that the Portland TrailBlazers #1 draft pick, Greg Oden, was going to miss the season. Read articles
here
and
here
if you so desire. He injured his knee and needed to have microfracture knee surgery. In the past NBA players have had this surgery and it seems that none of the players have come back as strong as they were before the surgery. None of the previous players was 19 years old like Oden is though. As a side note, this fact does not lead me to believe that he is actually 40 years old like some contend he may be. I'm not exactly sure what to think about Oden being the youngest of the bunch to have this surgery. Does it mean he is young so he will be able to come back strong? Or does it mean that he is predisposed to knee problems for the rest of his career? For the sake of the Blazers I hope it is the former.
Oden and Kevin Durant were the two best players in the draft but the Blazers chose Oden. This was seen as a good move since he has been the consensus #1 amateur player the last 3 years or so. The guy is 7-feet tall and very athletic so it seemed like as safe a bet as you'll find in any draft. Of course, a few months later it does not seem as safe a bet but you can't fault the Blazers for drafting him. According to general manager Kevin Pritchard, the team put Oden through a litany of physical tests prior to the draft and there is no reason to believe they didn't.
Now that I have established the background of the situation I will now turn my attention to Oregonians. The Blazers have been an embarrassment to the state the last few years so when they received the #1 pick people started to come back to the team. People began to buy season tickets in anticipation of the turnaround. I also got caught up in the excitement and figured I might watch 5 entire NBA games this season as opposed the 0 I had watched the last few years. Then yesterday the news came out and some locals started freaking out. They want to know how they can get refunds on their season tickets. This is where I started to think, typical Oregonians.
If you're not familiar with the area I'll give you some examples of a 'typical Oregonian'. First off, if anything goes wrong it's likely George W. Bush's fault. If the state government is not willing to give large companies decent incentives to reside in the state and the company decides to take its jobs elsewhere, it's Bush's fault. If the governor does not want to pony up the funds for education, it's Bush's fault. If it's not raining enough, it's Bush's fault. If it's raining too much, it's Bush's fault. You get the picture. Then there are the day-to-day happenings. If a kid at Taco Bell ruins my order it's a result of the kid not liking my car. If my kid fails a class it's because his teacher doesn't like his haircut. If I get fired from my job for not showing up it's because the boss has a bias against my gender. Somehow Oregon has created a culture where everything is someone else's fault. It really is comical but makes me wonder how much longer I can stay here.
Now, you're asking how does this relate to the Oden situation. There is absolutely no way the Blazers should refund season tickets. No one was forced to purchase the tickets. It's not as if the team is not going to play the games. They are still going to play and there is still a great, young nucleus led by the reigning Rookie of the Year Brandon Roy. The Blazers didn't pull any tricks in this matter. They didn't tell the public they were going to pick Greg Oden then at the last minute draft Greg Kinnear. Injuries are an unfortunate part of sports. Oden didn't kill or beat anyone/anything. Oden didn't get busted for doing drugs. Oden is still on the team and there is reason to be optimistic he will return next year. At least the Blazers drafted someone that is good-natured and won't embarrass the state. Blazers fans should be thankful for that alone. Simply put, the Blazers and Oden are incredibly unlucky and fans have to live with that.
(Photo from Garret Ellwood/Getty Images.)